Bolton

Scene, all about the town of Bolton, Lancashire.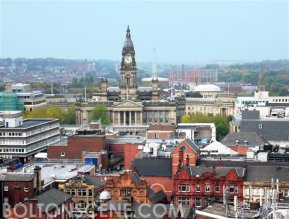 Where is Bolton?
Near Lancashire and Manchester, located in the North West of England. The town has a population of over 276,800. It is well known for top brands like Reebok and Warburtons, and famous people such as Fred Dibnah, Peter Kay and Amir Khan. It is also a Fair Trade Town.
In the beginning
The Metropolitan Borough was formed in 1974, this includes Blackrod, Farnworth, Horwich, Kearsley and Westhoughton. It also includes suburban and urban elements of the West Pennine Moors.
Its history
Its industrial history is one of bleaching, calico printing, coal mining, heavy chemicals, heavy engineering, leather tanning, papermaking, rope making and textiles. It also had lots of other types of industry.
What's on
BoltonScene is your first point of contact to find what's on, where to go, how good is the service and how to get there. We are building up our database to suit the people from all over the North West who are visiting, touring, having a night out or looking to stay longer in this magnificent place called Bolton.
We are compiling pictures from the past to the present day, looking to gather history about Bolton in the Lancashire, UK, looking to include great places go so that you can get a great feel of what Bolton is all about.
Why not take a steam train ride on the East Lancs Railway or even drive a steam locomotive.